Steve Goodman: Facing the Music

by Clay Eals

---
Event schedule
Event schedule in support of 5th printing
Cumulative list of events and media
For a complete list of all events and broadcast media coverage on behalf of the book thus far, click Cumulative list for an up-to-date Word file.
Event photos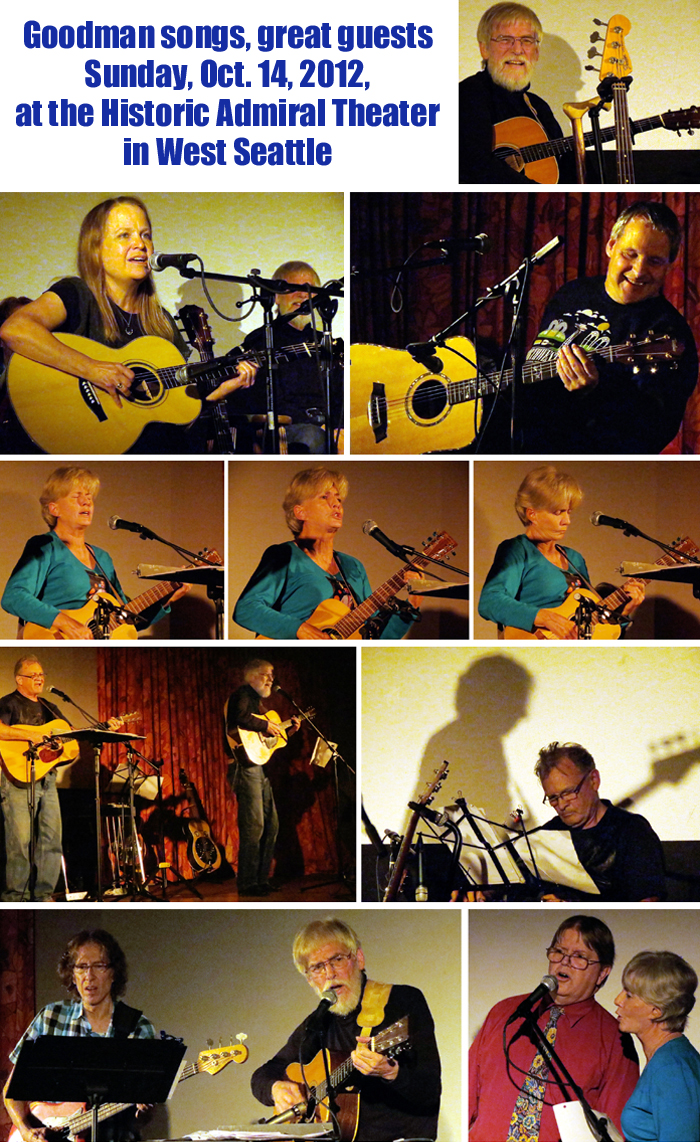 Just four blocks from my home, at the Historic Admiral Theater (circa 1942), a unique and compelling bill of pre-election topical music was presented on Sunday, Oct. 14, 2012, under the umbrella: "Tribute Times Two." In the afternoon, a two-hour solo multimedia presentation by Seattle attorney and singer/banjoist/guitarist Peter McKee, drilled down on the life and music of the legendary Pete Seeger. Then, in the evening (depicted above), six musical friends helped me present a two-hour show focused on the social-commentary songs of Steve Goodman.
(Top photo) The evening clearly pleased the headlining musician, Tom Colwell.
(Next row) Musical guests included Kat Eggleston of nearby Vashon Island, singing "Vegematic" and "The Ballad of Penny Evans," and Dan Mayer of Pullman, Wash., singing "Somebody Else's Troubles," "Between the Lines" and a hilarious version of "The I Don't Know Where I'm Goin' but I'm Goin' Nowhere in a Hurry Blues."
(Next row) Driving in from New York City was baseball umpire and singer/guitarist Perry Barber, who sang "Unemployed" and "Lookin' for Trouble."
(Next row) Mark Myers took the lead on "This Hotel Room," backed by Colwell, and supplied steel-guitar accompaniment before the backdrop shadow of bassist Bruce Hanson.
(Bottom row) Everyone, including (from left) Hanson, Colwell, myself and Barber, took the stage for an extendo version of "City of New Orleans."
Many thanks to all these musical friends and to Dinah Brein, the manager of the Admiral who wears her heart on her sleeve, for making the evening possible. Also, my deep appreciation for the expert (and impromptu) photography of Jamie Shilling!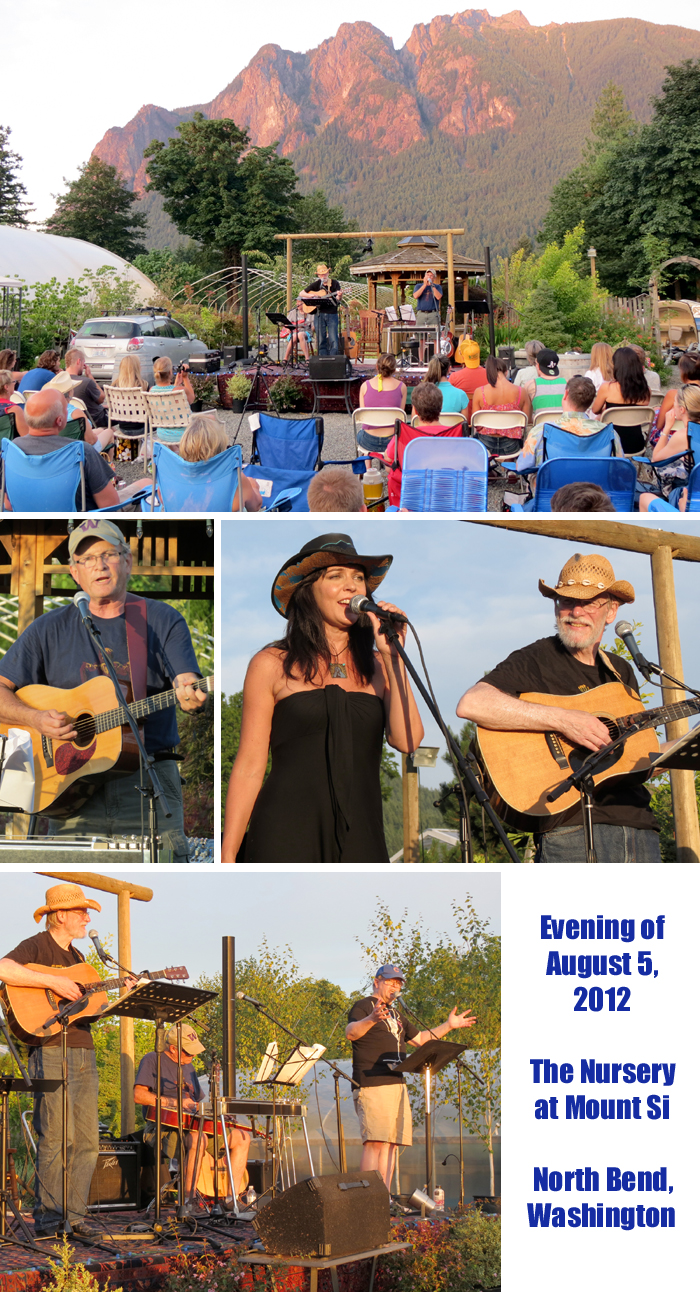 Could there have been a finer summer evening than Sunday, Aug. 5, 2012, for my Goodman-bio event in North Bend, Washington -- the location of my day job at the children's-services organization Encompass since summer 2008. The afternoon temperature hit the mid-90s but by the 7 p.m. start time about 50 souls escaped their air-conditioning and experienced a delightful, cooled-down show at the idyllic Nursery at Mount Si, with the majestic Mount Si serving as the magic-light backdrop. Once again, the Seattle-area core trio of Tom Colwell (in cowboy hat, on guitar and vocals), Mark Myers (in green "W" baseball cap, on dobro, harmonica, steel guitar and vocals) and Bruce Hanson (in grey baseball cap, on bass) supplied the music. We covered a lot of familiar ground, from the romantic ("I Can't Sleep") to the hilarious ("This Hotel Room," sung by Mark, and "A Dying Cub Fan's Last Request," with yours truly, in Cubs hat, on vocals) to social commentary ("Election Year Rag," "The Twentieth Century Is Almost Over," "Men Who Love Women Who Love Men") to mortality ("Video Tape," "When My Rowboat Comes In" and, of course, "City of New Orleans"). We also were graced by the guest vocals of North Bend's own Ann Landry on one of Goodman's most effective compositions, "The One That Got Away," and on the "City" finale. Big thanks to our host, Nels Melgaard, owner of the Nursery at Mount Si, the Valley Grange volunteers who provided refreshments, and all who attended, including my wife, Meg, who took these great photos.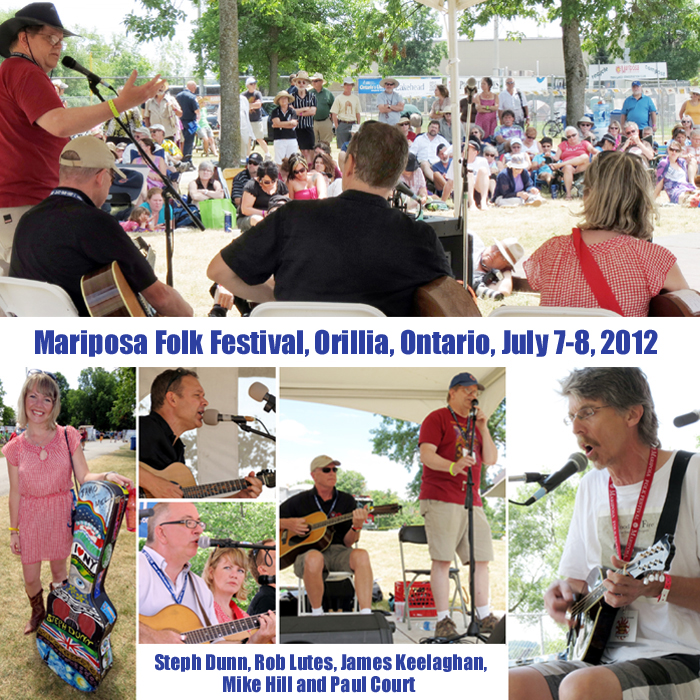 Pure outdoor warmth and magic -- that was the experience that my wife, Meg, and I had at the 2012 Mariposa Folk Festival, about 90 minutes north of Toronto. Our trip to Toronto, home of my publisher, ECW Press, was a long-delayed vacation, and one of the highlights was to experience Mariposa, at which I had two workshops: a literary panel with author Dave Bidini ("Writing Gordon Lightfoot") and moderator Jim Birchard, and a "Songs of" workshop with five stellar Canadian musicians (above, from left) Steph Dunn, Rob Lutes (upper photo), James Keelaghan, Mike Hill (accompanying me on "A Dying Cub Fan's Last Request" and Paul Court. The "Songs of" workshop drew 120 Goodman fans and helped make the launch of the updated third printing of "Steve Goodman: Facing the Music" a success. Mariposa is truly a legendary phenomenon (2012 was its 52nd year), and to participate in it was the ideal way to truly understand its lasting appeal. Big thanks to the musicians and organizers for your expertise, dedication and hospitality. No question, a return visit is in my dreams. Also, deep appreciation to Meg for taking most of these photos.

If you know the lyrics to "City of New Orleans," you are well aware that the song brought prominence to Kankakee, Illinois. It is one of the earliest stops as the train heads south from Chicago on its run to New Orleans. The city's chamber of commerce puts on Railfest every year as a result, and on June 6, 2009, musicians Jim Polaski (left) and Norm Siegel joined Clay for an outdoor reading-music event in front of the Kankakee train depot. The day before, Clay had the opportunity to put on a different type of event, detailing Steve Goodman's musical evolution by way of rare and largely unseen video footage in an indoor event at the Kankakee Public Library. Meeting up with Clay at that event (left) was Erika Pionke of Chicago.
Special thanks to Bill Yohnka, his family, Allison Beasley and the scores of other Kankakee residents for putting on a welcome to make anyone grateful.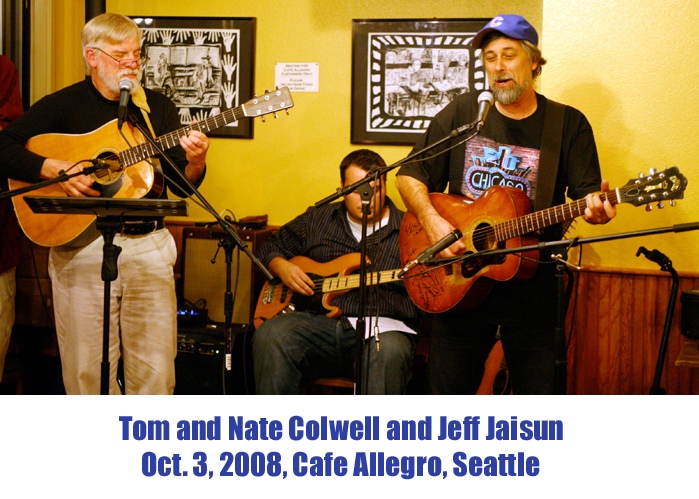 Even the smallest of events on behalf of the book are satisfying, exemplified by this Oct. 3, 2008, show at the tiny upstairs Cafe Allegro in Seattle's University District. Shown are Seattle musicians (from left) Tom Colwell, his son Nate on bass and, in a Chicago Cubs hat, the irrepressible Jef Jaisun. The Colwells and Jaisun jammed on oldies prior to their performances of a full set of Goodman and Goodman-related material to allow Perry Barber, of New York City, to make her way through an Interstate 5 traffic jam between Portland and Seattle and arrive just in time to play three more Goodman songs.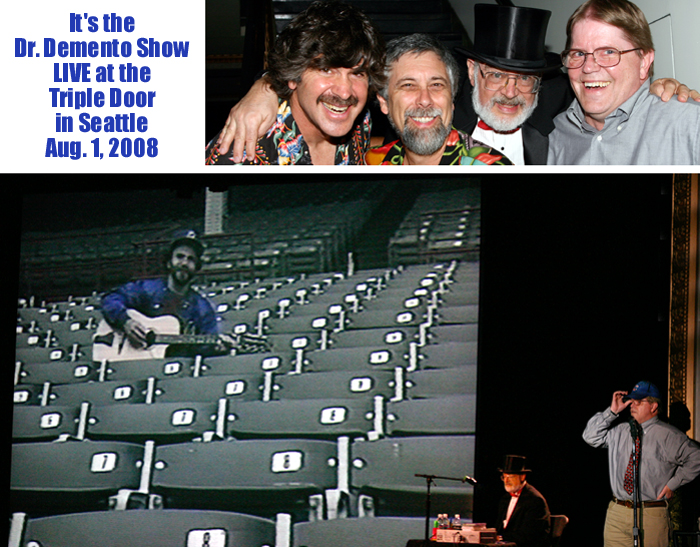 Fans of the wacky Dr. Demento radio show (now streamed on the Internet) know that the good doctor has been the purveyor of novelty songs and other fun fare for nearly four decades. But many people may not know that he occasionally takes his show on the road, screening video to accompany his quirky audio collection. Such was the case on Aug. 1, 2008, when Dr. Demento (aka Barry Hansen) came to the Triple Door club in Clay's hometown of Seattle.
The good doctor, who often has played Steve Goodman's funny songs over the decades and even had Goodman as a studio guest in 1977 and 1983, invited Clay (right, in Cubs hat) to introduce rare video footage (courtesy of Bob Sirott in Chicago) of Goodman performing "A Dying Cub Fan's Last Request" while dressed in Cubs regalia and sitting in the Wrigley Field grandstand during the baseball strike of 1981. Clowning around after the show were two Northwest musicians also on the bill whose songs have been Dr. Demento favorites (from left): Dana Lyons ("Cows with Guns") and Jef Jaisun ("Friendly Neighborhood Narco Agent"), along with the good doctor and Clay.
Special thanks to Jef Jaisun and Jayne DeHaan for shooting and sharing these fine photos.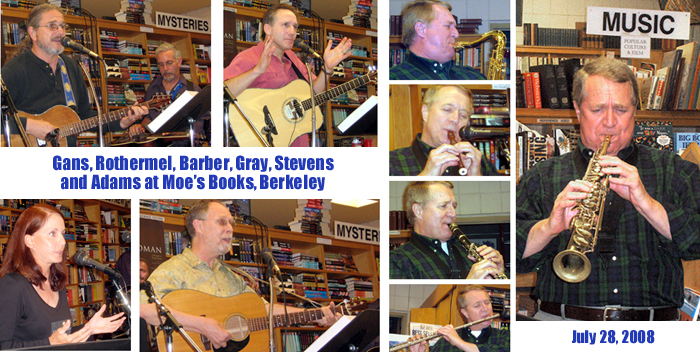 Capping the California tour was a stunning show July 28, 2008, at Moe's Books in Berkeley, as shown in the collage above. The musicians shown on the left side of this collage were (clockwise from upper left) David Gans, Joe Adams, Harry Gray, Jim Stevens and Perry Barber, who flew in from New York City to be part of the proceedings. The right side of the collage reflects the special treat of the solos and accompaniment of ace multi-instrumentalist (and eight-year Steve Goodman recording and performing partner) Jim Rothermel, who joined in on (from top) tenor sax, recorder, clarinet, flute and (right) soprano sax. (The one-man "Mama Don't Allow It" band also contributed harmonica, not pictured.)
Special thanks to Betty Nudelman and David Gans for shooting and sharing these fine photos. For more of David's fine photos, see David Gans.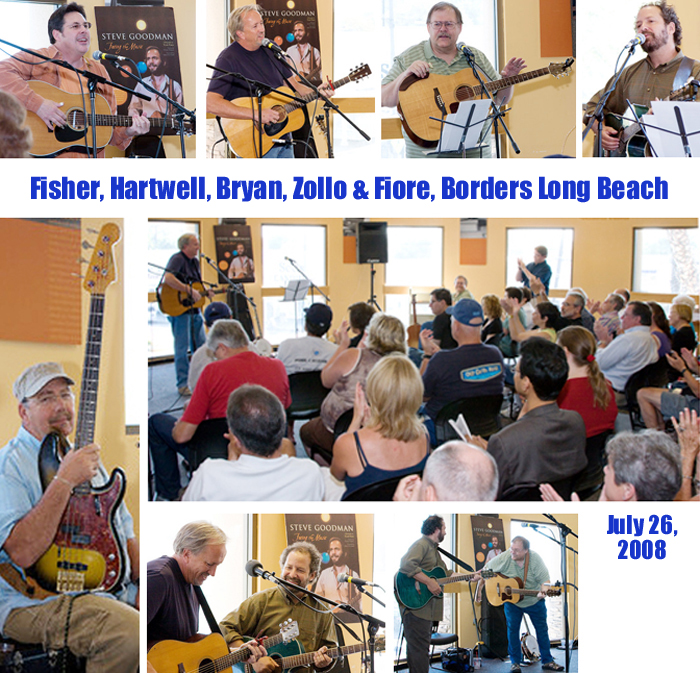 This collage depicts the hugely successful reading/music event July 26, 2008, at Borders Books & Music in Long Beach. Musicians for this event were (top row, from left) Robert Morgan Fisher, Bill Hartwell, John Bryan, Paul Zollo and (lower left) bassist Chuck Fiore. Hartwell's tribute song, "The Best Friend I Never Knew," was especially affecting, and the interplay throughout the show (bottom photos) generated plenty of smiles.
Special thanks to Art Cohen, who drove up with Hartwell from San Diego for the show, for shooting and sharing these fine photos.
Other Los Angeles-area events took place July 26 at Eddie Montana's Seal Beach Music, Seal Beach (musicians Eddie Montana and Travis Harrelson); July 27 at the Fret House, Covina (musicians Jeff Stevens, Russ and Bob Locke, Larry Rand and Nicole Mendyk, Brad Ellis); and July 27 at Water Canyon Coffee Company, Yucca Valley (musicians Steve Lester, Barbara Buckland, Alice and Albert Williams, Garry Fish).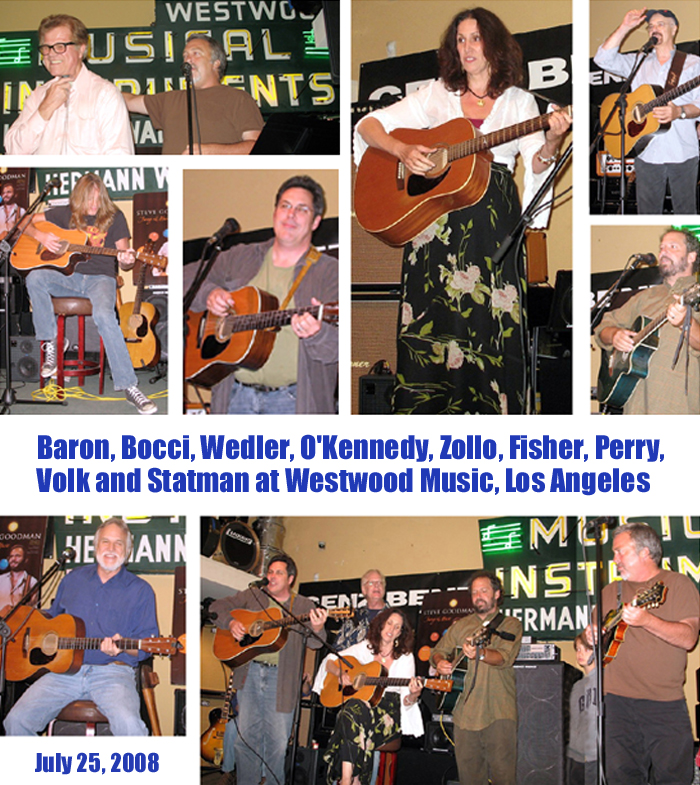 The collage above shows the kickoff of a four-day, six-event California tour in July 2008 -- and the site of the first event, on July 25, was the legendary Westwood Music in Los Angeles. Westwood's owner (top left) Fred Walecki welcomed the crowd, and (to his right) John O'Kennedy anchored the reading/music event with ace accompaniment throughout. The remaining photos at the top of the collage show (from left) Mitch Perry, Robert Morgan Fisher, Jessica Baron (tribute song "Light Up the Sky"), James Lee Stanley and Paul Zollo. Below left is Richard Wedler (who instigated Steve Goodman to write the second verse of "City of New Orleans." The finale on that song included the talents of (from left) Fisher, Tom Bocci, Baron, Zollo and O'Kennedy. Also performing that night but not pictured were Tom Volk and Paul Statman. Among the night's highlights was Bocci's performance of the never-before-heard Steve Goodman song "Quake City."
Special thanks to Sandy Jacobson, host of the Los Angeles cable-TV show "BackStage L.A.," for shooting and sharing these fine photos.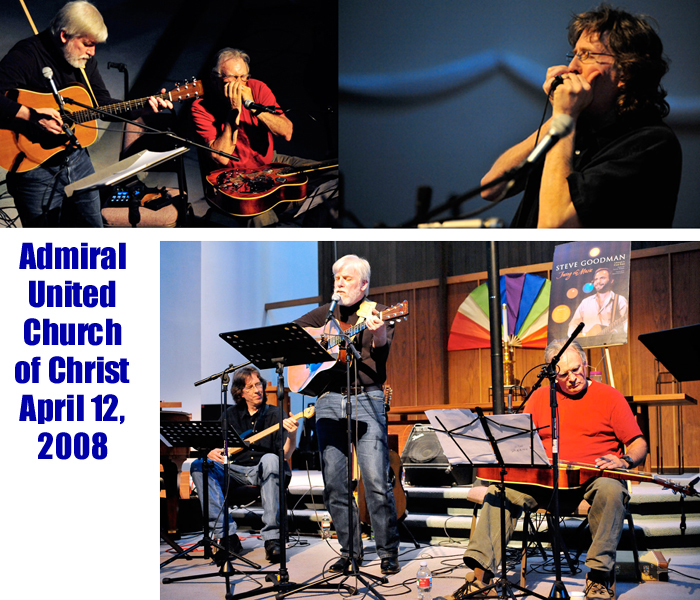 The above collage reflects the musical talents of (top, from left) Tom Colwell, Mark Myers and Bruce Hanson, who graced the sanctuary of Admiral United Church of Christ in West Seattle on Saturday evening, April 12, 2008. The event drew 60 people, many of whom were family and friends who had not been able to attend a Goodman-bio event before. Thanks go to Terry Teigen, pastor, and the church council for opening the doors for this event, also to Jean Sherrard, who kindly shared these exceptional images.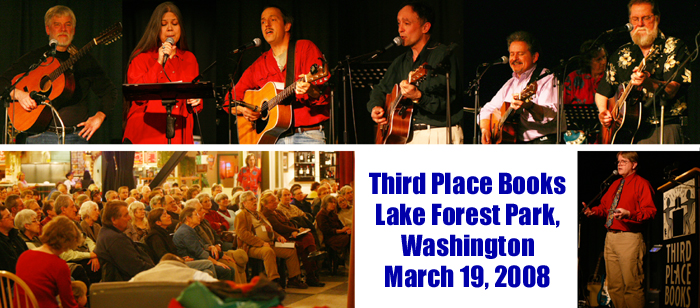 The above collage shows the March 19, 2008, reading/music event emceed by Clay (bottom right) in the Commons at Third Place Books in the Seattle suburb of Lake Forest Park.
As the audience of more than 200 looks on, (top row, from left) performers at the 100-minute show included Tom Colwell, Nancy Dillon, Ian Woofenden, Paul Prappas, Steve Wacker, Bruce Hanson and Bruce Blood.
Also performing was Jef Jaisun, but he is not shown because he also served as photographer. Thanks for these fine images, Jef!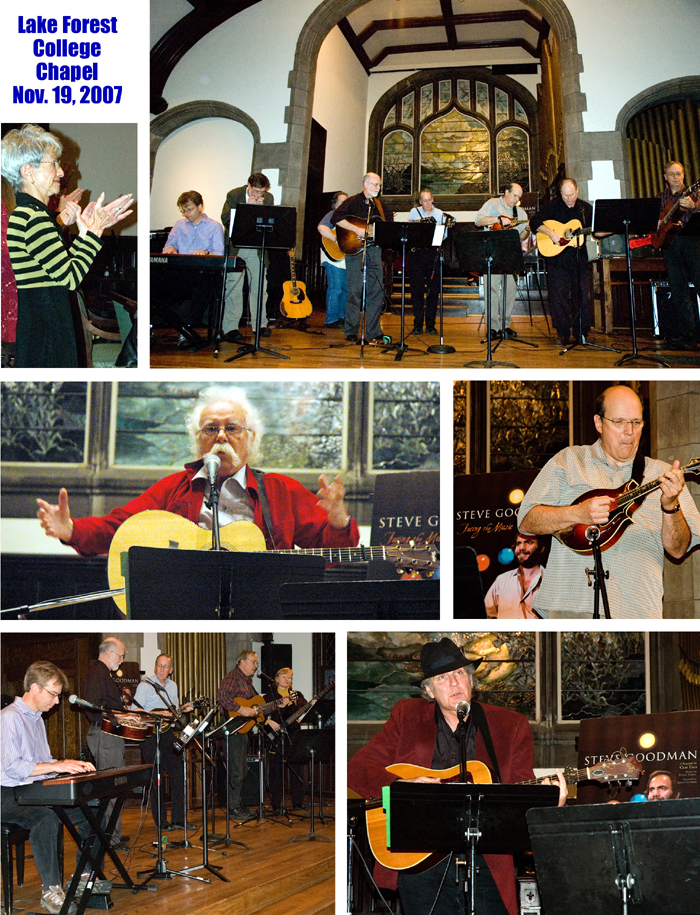 The above collage shows the Nov. 19, 2007, tribute event emceed by Clay in the Chapel at Lake Forest College, north of Chicago.
(Top row, from left) Steve's mom Minnette Goodman applauds, and a jam proceeds on "Mama Don't Allow It," performed by Don Meyer, keyboards; an unidentified harmonica player from the audience; Norm Siegel (partly obscured), guitar; Rand Smith, guitar; Jim Cubit, mandolin; Don Stiernberg, mandolin; Al Day, guitar; Richard Pettengill, guitar.
(Middle row, from left) Jim Post tells a story before performing "Old Fashioned," while Don Stiernberg takes a mandolin solo on "If Jethro Were Here."
(Bottom row, from left) The Lake Forest College faculty band Fast & Cheap, consisting of Don Meyer, Rand Smith, Jim Cubit, Richard Pettengill and Cindy Hahn, performs "City of New Orleans," and Harry Waller performs his Goodman tribute song, "Why Did He Have to Leave?"
Also participating but not pictured was Kat Eggleston, who performed "The Ballad of Penny Evans" and "Vegematic." Speakers included Minnette Goodman and Kenneth Bennett, LFC professor emeritus of English, both of whom addressed Goodman's 1967-68 stint as a student at the college. All 250 seats in the Chapel were filled, and another 30-40 people stood around the perimeter for the two-and-three-quarter-hour evening event.
Thanks to Alan Teller for shooting and sharing these fine photos.

The above pair of photos covers "Steve Goodman Day," proclaimed for Oct. 5, 2007, by Pat Quinn, lieutenant governor for the state of Illinois:
(Left photo, from left): Clay and Quinn were interviewed at 5:45 a.m. Oct. 5 on the roof of a walkup on Waveland Avenue outside of Wrigley Field by WBBM-TV Morning Show host Randy Salerno. See the segment at WBBM.
(Right photo, from left): Presiding at the "Steve Goodman Day" ceremony later that day in the James Thompson Center in downtown Chicago were Jay Blunk, Chicago Cubs director of marketing and sales; Roy Leonard, former WGN-AM host; Minnette Goodman, Steve's mom; and Quinn. During the ceremony, Blunk presented Minnette a "Goodman 1" jersey and said that in 2008 the Cubs will schedule a "Steve Goodman Day" at which she will be invited to throw out the first pitch. Quinn also presented Minnette with four NL Division Series tickets at Wrigley for Oct. 6 and 7, but the latter game was not played because the Colorado Rockies swept the series, knocking the Cubs out of post-season play.
Thanks to WBBM-TV for the photo at left. Photo at right by Clay Eals.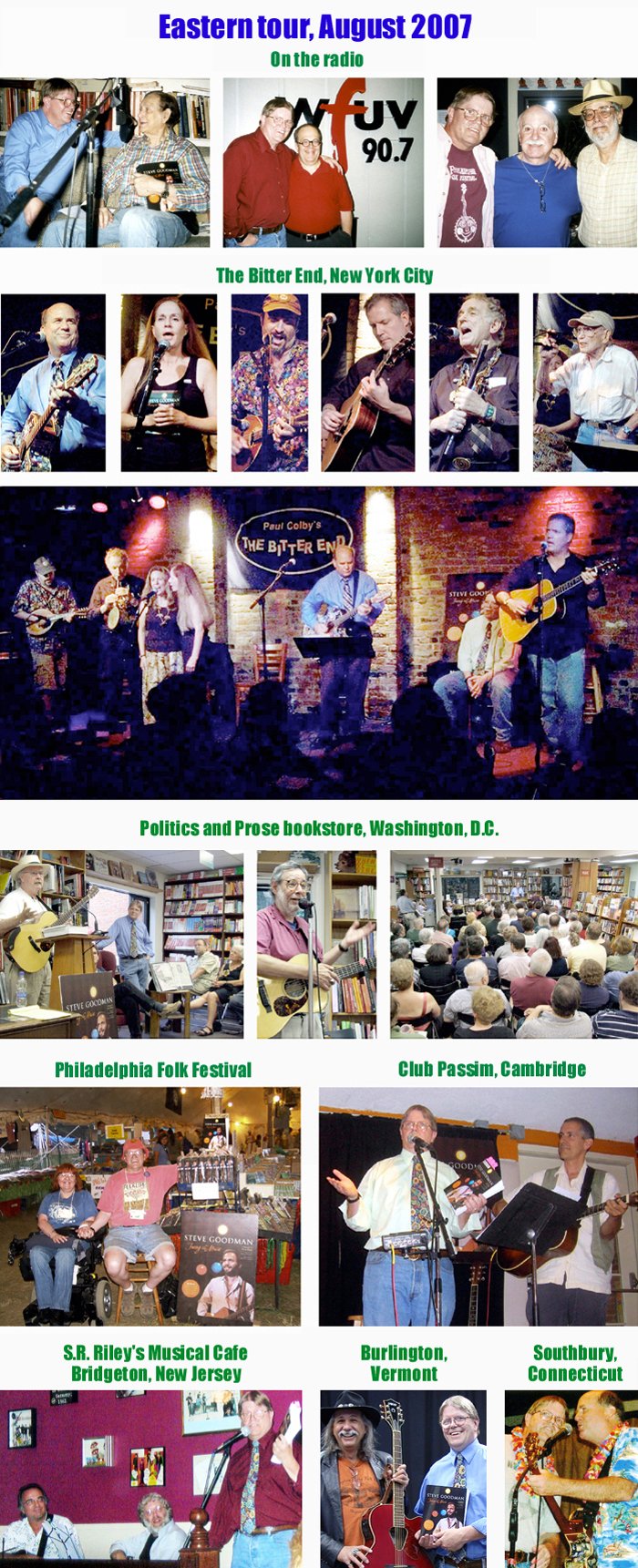 The above collection of photos covers reading/music events during Clay's Aug. 8-27, 2007, tour of the northeastern United States:
Top row (from left): Clay was interviewed on Aug. 9 by Oscar Brand, host of "Folksong Festival" on WNYC-FM, New York City; on Aug. 11 by Vin Scelsa, host of "Idiot's Delight" on WFUV-FM, New York City; and on Aug. 12 by Gene Shay, host of "The Folk Show," WXPN-FM, Philadelphia.
Second row (from left): Making music and speaking at Clay's reading/music event Aug. 13 at the Bitter End in Greenwich Village were Willie Nininger, Perry Barber, John Kruth, Bill Hall, David Amram and Paul Colby. In the lower photo, the whole group (including Ann Nininger Grilli, to Amram's left) performs the "City of New Orleans" finale. For further images of the Bitter End event, see Chuck Klein's page at Chuck Klein.
Next row (from left): Performing Aug. 15 for a crowd of 130 people at Politics and Prose Bookstore in Washington D.C. are Tom Paxton and Saul Broudy. For a stellar collection of 75 images of this event shot by Bruce Guthrie, see Bruce Guthrie.
Next row (from left): Clay pauses Aug. 17-19 with Coleen Boyd at his sales booth in the official tent at the Philadelphia Folk Festival in Schwenksville. See further festival photos, including some of the Goodman sales booth, at the site of Bob Siddall. At Club Passim in Cambridge, Massachusetts, Clay speaks while David Roth looks on.
Bottom row, left photo: (From left) Musicians Ernie Trionfo and Vince Farinaccio listen while Clay introduces them Aug. 16 at S.R. Riley's Musical Cafe in Bridgeton, New Jersey, the city in which Steve Goodman played his last scheduled gig in 1984.
Bottom row, middle photo: Clay poses Aug. 23 with Rik Palieri, host of "Songwriters Notebook," after taping a half-hour show on Lake Champlain Access Television in Burlington, Vermont. The show can be seen on YouTube at Songwriters Notebook.
Bottom row, right photo: Clay joins Winnie Nininger in singing "City of New Orleans" at a show Aug. 25 at Heritage Village in Southbury, Connecticut.
Thanks to Jon Pickow, Kim Ferdinando, Charles Seton, Mary Ingalls, Bruce Guthrie, John Posniak, Saul Broudy, Mark Chester, Rebecca Padula, Mary Muehleisen Nowak and Willie Nininger for their kindness in shooting and/or making available these fine images.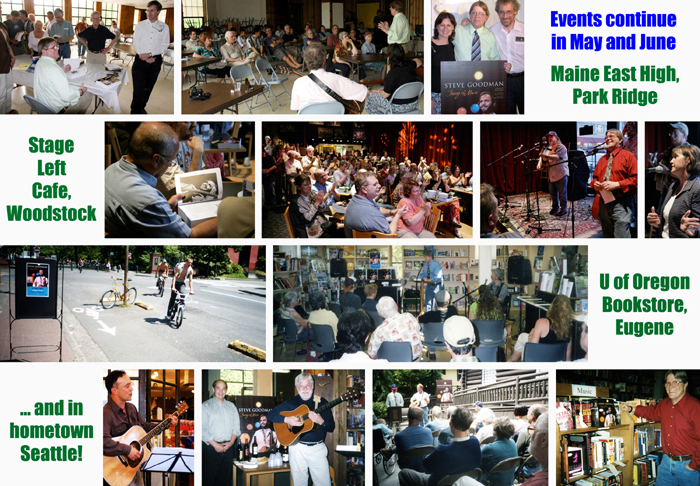 The above collection of photos covers reading/music events at the tail end of the Chicago-area launch in late May 2007 and events around the Pacific Northwest in June 2007:
Top row (from left): On May 23 at Goodman's alma mater, Maine East High School in Park Ridge, Illinois, a sizeable crowd, including former assistant principal Doug Harrison (hands on hips), lines up to get their copies of books signed after listening to an hour-long program by Clay and the husband-and-wife duo of Rich and Vicki Ingle, known as Comfort Food. The Ingles also participated in a reading/music event that night at the Skokie home of Michael (and Susie) Lorge, son of Goodman's childhood rabbi, Ernest Lorge.
Second row (from left): On May 24 at the Stage Left Cafè in Woodstock, Illinois, an audience of more than 120 checks out the Goodman biography and enjoys a four-hour show of performances of Goodman songs by Norm Siegel (shown in Cubs hat with Clay) and others, hosted by Arlene Lynes, owner of the bookstore next door called Read Between the Lynes. Other performers were Live Bait (Pete Johnson and Greg Nybo), Chuck VanderVennet, Jim Gary and Small Potatoes (Rich Prezioso and Jacquie Manning).
Third row (from left): On June 2, a street sign at the entrance to the University of Oregon, Clay's alma mater, promotes his event at the UO Bookstore that featured "The Twentieth Century Is Almost Over" and other Goodman songs performed by Eugene folksinger Mark Ross, who played the "basket houses" of Greenwich Village with Goodman in 1967.
Bottom row (left): On June 14 at the Capers gift and coffee shop in West Seattle, Paul Prappas plays "Video Tape" and other Goodman songs. It was one of half a dozen reading/events for the Goodman bio in the Seattle area from late May through June. (Center left) Tom Colwell pauses after performing at a June 14 event at Island Books, owned by Roger Page, standing to Colwell's right. (Center right) Clay speaks the verses of "A Dying Cub Fan's Last Request" accompanied by longtime friend Brad Chrisman on June 23 at the Birthplace of Seattle Log House Museum of the Southwest Seattle Historical Society. (Right) Clay poses in the music section of Elliott Bay Book Co. in Seattle's Pioneer Square district after an event with Tom Colwell and Paul Prappas there on June 9. The Goodman bio is prominently displayed on the top shelf and in its proper alphabetical spot two shelves below. Elliott Bay pioneered the practice of author readings at bookstores more than 30 years ago.
Thanks to Mary Woodruff, Joanne Murray, Meg Eals and especially Robin Pendergrast for their kindness in shooting and making available these fine images.

The above collection of photos depicts the Steve Goodman panel held Sunday afternoon, May 27, 2007, at the Northwest Folklife Festival in Seattle. The musicians were (from left): Ryan, Ian, Claire and Nora Woofenden, Brian Gill, Tom Colwell, Jef Jaisun, Leilani McCoy, David Roth and Paul Prappas.
Thanks to Jef Jaisun and Bob Purnell for their kindness in shooting and making available these fine images.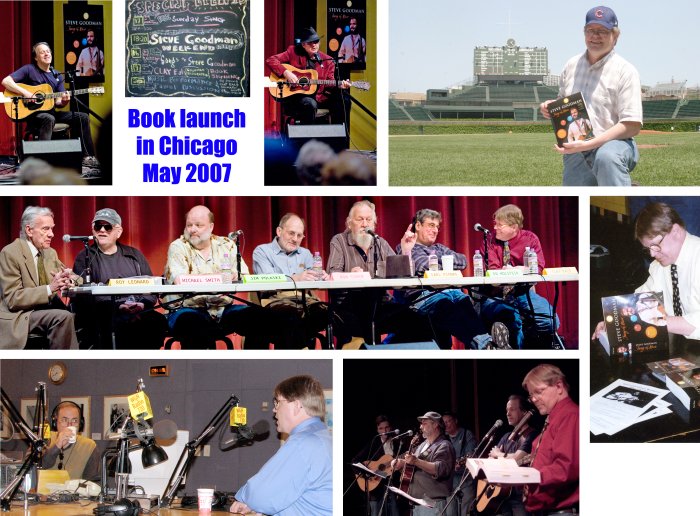 The above collection of photos zeroes in on the launch of the Steve Goodman biography May 18-20, 2007, in Chicago:
Top left: Chicago troubadours Chris Farrell (left) and Harry Waller perform original songs in tribute to Goodman -- "Old Town, Old Friend" and "Why Did He Have to Leave?" respectively -- to kick off the May 20 panel discussion at the Old Town School of Folk Music. They are flanking a chalkboard sign announcing the school's weekend events.
Top right: With the just-released book in hand, Clay poses at Wrigley Field, the inspiration for several Goodman baseball songs.
Middle left: The May 20 panel at the Old Town School mixes it up (from left): moderator Roy Leonard, Michael Smith, Jim Polaski, Ron Cohen, Earl Pionke, Ed Holstein and Clay.
Middle right: On May 19, Clay signs one of scores of books sold at the Old Town School over the weekend.
Bottom left: WGN-AM host Rick Kogan interviews Clay May 20 on his "Sunday Papers" show.
Bottom right: Clay prepares to read a quote from the book while musicians (from left) Michael O'Toole, Steve Levitt, Mike Felten and Chris Farrell perform a Goodman song May 18 at the Old Town School's Six-String Social.
Thanks to Jon Randolph, Jim Polaski, David Kinchen, Bob Kuraszek and Piper Mead for their kindness in shooting and making available these fine images.